New Kuster A-38 under contruction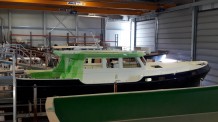 In October Kuster Yachts started construction of a new Kuster A-38.
After a period of intensive cooperation with our designer Arthur Mursell the first steps were made for a new Kuster A-38. The airframe builder started last month with the construction of the new Kuster A-38.
A new phase for Kuster Yachts.